Health and safety play a vital role in running a business, ensuring that your employees, premises, and equipment remain protected. One crucial aspect of this is PAT testing, which is designed to reassure the safety of electrical equipment while highlighting any faults that risk injury.
Having spent many years as local electricians in Milton Keynes and the surrounding areas, testing and inspections have become one of the most commonly booked services amongst our clients. While important for staying compliant, we are regularly asked, "what is PAT testing?" and when it is needed, so we have put together a guide on everything you need to know!
What Is PAT Testing? A Complete Guide To Testing Your Appliances
Whether you manage an office, hotel or restaurant or are a landlord of commercial premises, PAT testing is highly recommended to ensure that you stay within the law. This is also the case for those who work from home, even self-employed. However, with many different types of electrical testing available, it can be tricky to determine when each is required and which appliances they apply to. To help you to familiarise yourself with PAT testing, we will run through the following: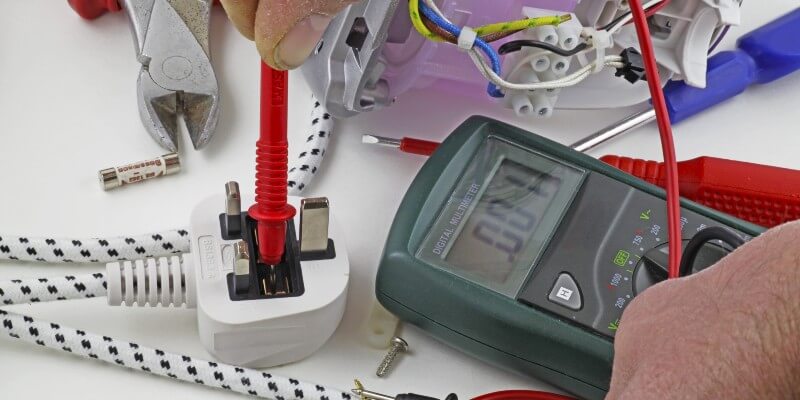 PAT stands for portable appliance testing and is the process of examining equipment to determine whether they are safe for continued use at work. The term 'portable appliance' relates to any appliances designed with a plug and requires a power outlet.
Through a series of visual and electronic tests, PAT testing will highlight any potential defects to minimise the likelihood of an electrical accident in the workplace. At the end of this process, each appliance will pass or fail, and these results will be recorded. Should an appliance fail, you must discontinue use immediately and replace it with a safe alternative. Electrical Safety First has put together a great article on how to dispose of your old, damaged electrical items.
To legally carry out PAT testing, an individual must have completed appropriate training and has enough practical experience to be considered competent. At IN2 Electrical, our electricians in Milton Keynes and the surrounding areas are fully qualified and approved by the NICEIC, ensuring that all testing is per professional guidelines. We provide a free consultation on all services, so please do not hesitate to get in touch if you require more information on PAT testing.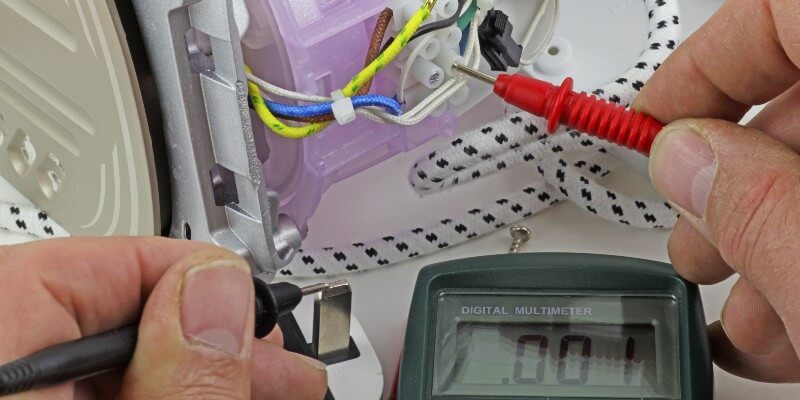 By far, one of the most common questions we are asked with regards to PAT testing is whether it is a legal requirement. Currently, the PAT testing itself is not a legal requirement; however, there are regulations stating that electrical appliances must be well maintained, and PAT testing will help you meet these.
Through PAT testing, you will be able to stay compliant with the Electricity at Work Regulations 1989, which requires all electrical equipment that could potentially cause harm to remain in a safe condition. While this does not state how often you have to test equipment, most opt for booking in annually to ensure they stay within the law. You can also judge the frequency of testing by how often the equipment is used and their risk factor. For example, a builder's power tools would require more testing than a kettle in an office.
Failing to comply with electrical related regulations can lead to a hefty fine and possible imprisonment depending on the severity of the case. You can find a full breakdown of the Electricity at Work Regulations 1989 on this handy PDF by the HSE.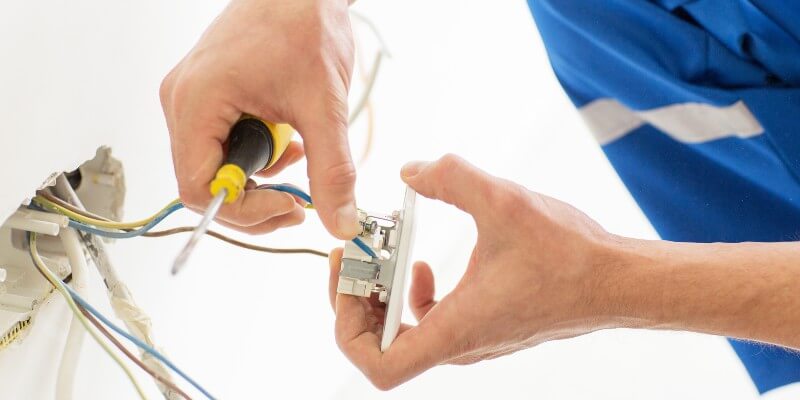 Determining whether an item needs to be PAT tested couldn't be easier as clear guidelines are in place. These guidelines are split into two categories, the item's electrical class and its category. Find out more about each below:
Electrical Class:
Electrical appliances typically fall into one of three classes, and these are based on the level of danger that they pose. Class 1 appliances are the most dangerous, and Class 3 are the least; here is how to determine which class an appliance falls into:
Class 1: The appliance is designed with basic insulation and uses the earth for protection (i.e. photocopiers, vending machines, desktop computers and kettles)- these need a full PAT test.
Class 2: The appliance does not need to rely on the earth for protection as it has extra insulation (i.e. lamps, drills, TVs and hairdryers)- these only need a PAT insulation test.
Class 3: The appliance has low voltage (i.e. cameras, laptops and torches) – these do not need to be PAT tested, but their charging leads will need to be.
Electrical Category:
Along with splitting appliances into classes, they also fall into one of seven categories; these are:
Fixed: Appliances fixed in a permanent location require visual inspections now and again, but no need for PAT testing.
Stationary: This includes items such as office fridges and vending machines and does need PAT testing, along with visual inspections in high-risk environments.
IT: Business equipment, including monitors and printers, will need visual inspections in high-risk environments and PAT testing.
Moveable: Any equipment that is under 18kg and is usually kept in one place but can be moved will need regular visual inspections and PAT testing.
Portable: All items that are regularly moved to connect to a different power outlet will require regular visual inspections and PAT testing.
Cables & Chargers: These need regular visual inspections and PAT testing, including extension cables and cable reels.
Handheld: Lastly, handheld items like electric drills need regular visual inspections and PAT testing.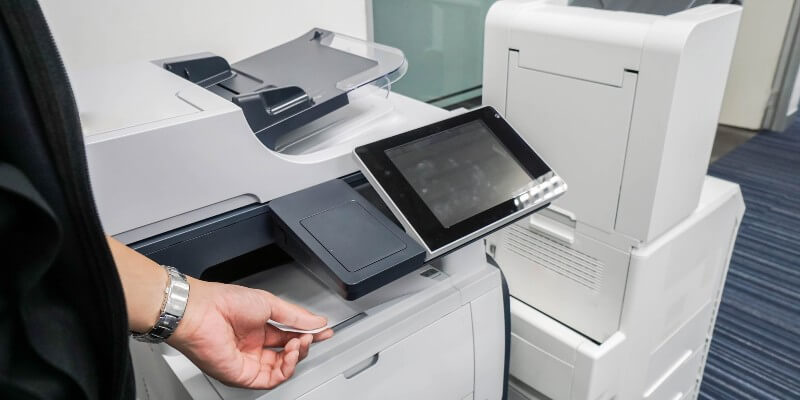 A PAT test will typically consist of three steps; some are based checks that you should complete on a regular basis to spot growing issues, and others will be done by a qualified PAT tester.
User Checks
As a business manager, you should ensure that all of your employers are aware of how to carry out a basic user check on their electrical items. This includes checking the following before using a piece of equipment (always ensure that it is disconnected when completing a user check):
Lead damage such as fraying or heavy scuffing
Plug damage such as bent pins
Outer cover damage such as loose components
Signs of overheating such as burn marks
Visible leads or botched repair jobs to join leads back together
Users of any electrical appliances should also ensure that equipment is stored in a safe location away from wet or dusty environments, and when in use, no cables are trapped.
Formal Visual Inspection
During your inspection with a qualified PAT tester, they will begin with a formal visual inspection of appliances. This step usually highlights around 90% of issues with faulty equipment and assesses several components.
For example, when completing visual inspections, our local electricians in Bedford and the surrounding areas will check:
Plugs: Check that the wiring is correct, conductors are connected to the right terminals, and there are no signs of cracks or burns.
Appliances: Check for cracks, corrosion and overall wear and tear.
Cables: Check for fraying, abrasions and exposed wiring.
Sockets: Check the shutter mechanisms and signs of loose fittings or signs of overheating.
RCDs: Check the operating current, the 'test" button and signs of damage.
Location: Check for overloaded extension leads and hazards such as water or fire risks.
Manual Inspection
It is imperative that the manual inspection is always carried out by a competent person as specialist equipment will be used. After the visual inspection, this step will be completed using a portable appliance tester device that assesses the insulation resistance, earth continuity and lead polarity. This will then show the tester whether the appliance has passed or failed, and from here, the item will receive a sticker.
If you require PAT testing, feel free to contact our approved electrical contractors in Harpenden and the surrounding areas. With years of practical experience, our electricians will be able to test all appliances and answer any questions you may have regarding keeping items safe and remaining compliant with regulations.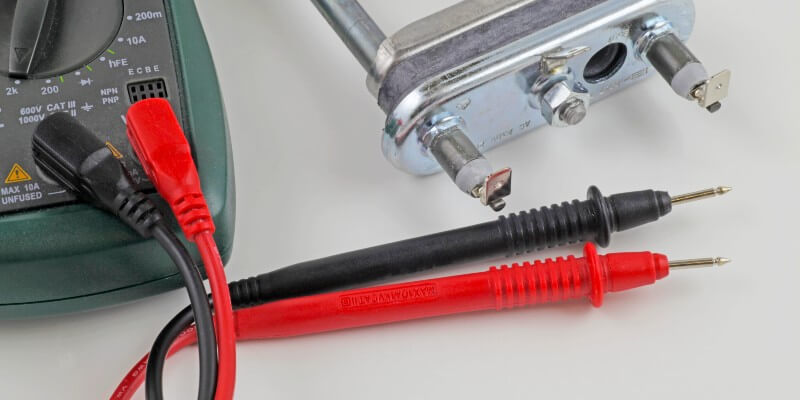 Book Your Annual PAT Testing Today!
From reducing the likelihood of electrical accidents to ensuring that you remain compliant with the latest regulations, annual PAT testing comes alongside a wealth of benefits. Through PAT testing, you can ensure that defects or signs of wear and tear are detected in the early stages and can be rectified before they become a risk to your business. For more information on PAT testing or to schedule an inspection, please do not hesitate to contact our team. We would happily arrange a free, no-obligation consultation to run through how we can help in more detail.